Shri Sudarshan Agarwal (08/01/2003 – 28/10/2007)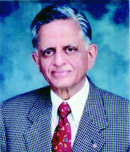 Shri Sudarshan Agarwal was born in the year 1931. He acquired a degree in Law from Punjab University in the year 1953.
Shri Agarwal joined Judicial Service of Punjab in 1956 and served as a Judicial Officer till 1971. In 1971 he joined Rajya Sabha Secretariat and served in various capacities.
In the year 1981 he became Secretary General of the Rajya Sabha and held this office for over 12 years. In 1986 while holding this office, he was elevated to the rank and status of Cabinet Secretary to Government of India.
He is a distinguished Rotarian and has served as Chairman of Rotary Foundation India. He also set up the Rotary Blood Bank at Delhi. He was also instrumental in setting up the Blood Bank under the auspices of Indian Medical Association in Dehradun. He was sworn in as Governor Uttarakhand on 8th January 2003 and functioned in this capacity till 28th October 2007.
*********